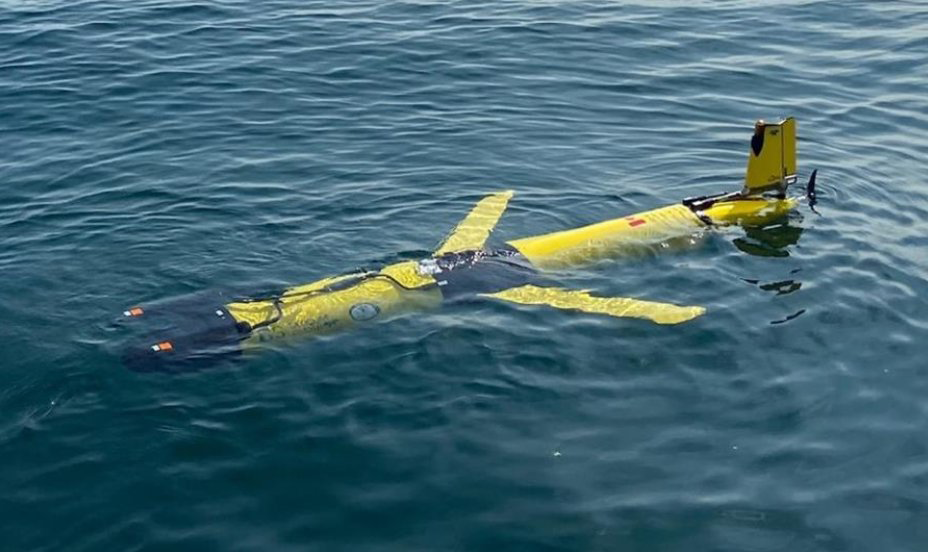 RAEON, in partnership with the US Geological Survey, is range testing a novel mobile platform to improve glider-based acoustic telemetry studies. Scientists use acoustic telemetry – which includes fish tags and stationary receivers – to determine the distribution and movements of aquatic species. Unfortunately, gathering the data often requires manual retrieval of these receivers.
RAEON has created a mobile platform to do this work using Teledyne Marine's Slocum gliders, a type of autonomous underwater vehicle, and Innovasea's VR2C cabled acoustic receivers. This mobile platform will allow scientists to detect fish in real-time in an expanded study area compared to using stationary receivers alone. Gliders provide detailed environmental data at a high resolution, providing necessary information about the habitat of species of interest.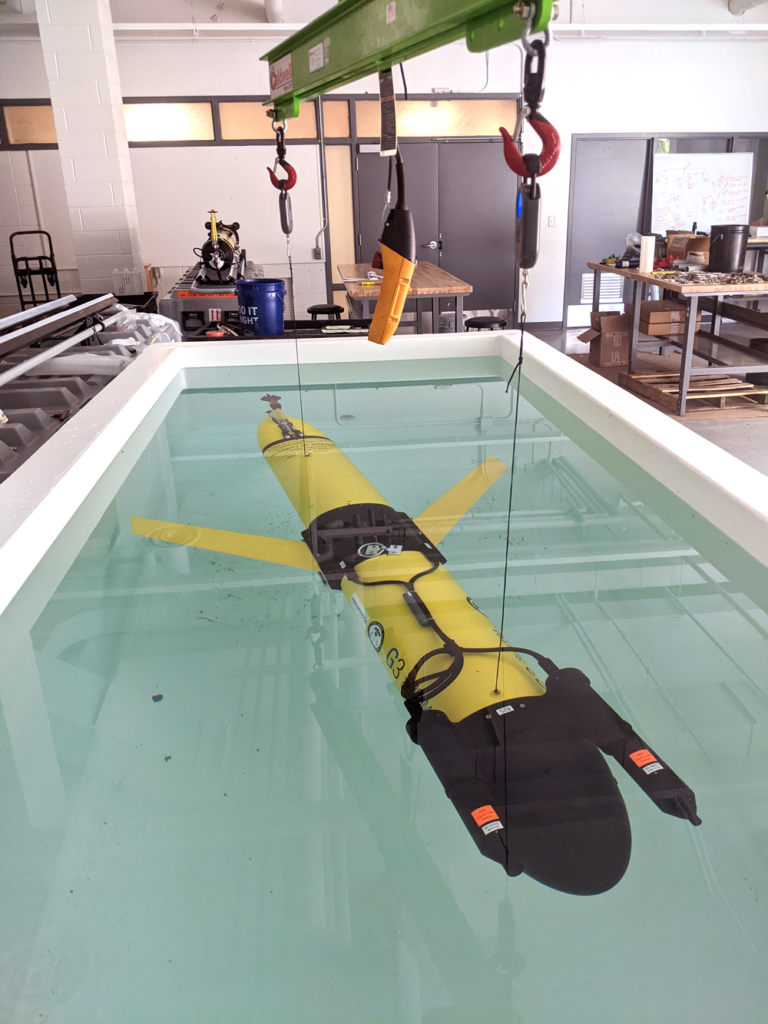 Two gliders were deployed in Lake Huron in Fall 2021: in Hammond Bay, Lake Huron, which performed acoustic telemetry range testing with the glider-mounted VR2C receivers; and in Saginaw Bay where a glider was deployed near Tawas, Lake Huron, to continue range testing and to attempt detection of tagged juvenile cisco recently released by USGS. The goal of range testing is to determine the in-situ range of the receivers to inform the design and results of glider-based acoustic telemetry studies. A team of researchers from RAEON, USGS, and the Great Lakes Acoustic Telemetry Observation System (GLATOS) are analyzing the range testing data from the two deployments.
Both deployments in Lake Huron were made possible by RAEON's partnership with glider technicians from the Cooperative Institute of Great Lakes Research (CIGLR), who assisted with glider preparation, deployment, piloting, and recovery.
Future work includes acoustic telemetry surveys using the glider-mounted VR2C in Lakes Erie, Huron, and Ontario in 2022. Additionally, RAEON has recently acquired a Benthos modem from Teledyne that will allow its gliders to autonomously offload detection data from Innovasea's VR4 acoustic receiver. Autonomous offloading would provide researchers with the opportunity to retrieve detection data from the benthic receivers more regularly, without the need for a crewed vessel. Testing of this modem is planned for 2022. The abilities to detect fish real-time with the VR2C and to offload detections from VR4 receivers using gliders will provide a more robust data collection and retrieval system for researchers studying fish distribution and movement in the Great Lakes.